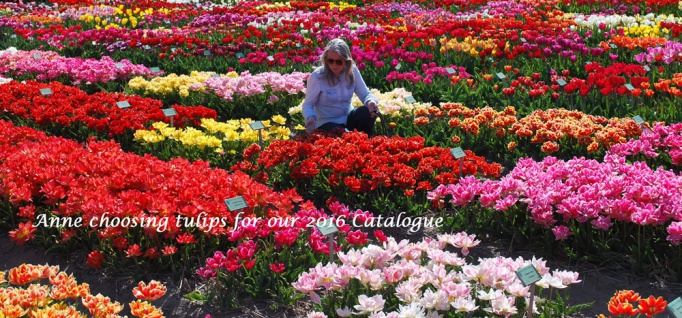 Tulips
AUTUMN 2018 TULIP CATALOGUE
We will be pleased to take orders from early July, for Sept/Oct delivery.
Please note that all tulip bulbs supplied are of the top size available, which is 12+ cm, except for species tulips & a very few (usually new) varieties where 11/12 is the only available size. This is particularly important when you are comparing not just price, but also the resultant show that a 12+ cm bulb will produce (Blom's gold medal winning displays at Chelsea use 12+ sized bulbs). Quoting 'top sized bulb' is not enough - you need to ask what size that actually is, before making comparisons. If no size is quoted, you can safely assume it is either 11/12 or even smaller.
We offer border tulips in a minimum quantity of 10, to accommodate those with smaller gardens and to allow new varieties to be tried out. We do strongly recommend, however, that, wherever possible, you plant in larger numbers for real impact. In most cases we offer larger packs of 50 bulbs at up to 10-20% discount on the 10 pack size, and in some cases, 100 bulb packs at a further 10-20% discount, making them exceptional value for the quality and size of bulb offered.
Please note that 2018 has been a difficult year for tulip growers, with many expecting to harvest only a fraction of the crop they would normally expect. Older varieties appear to have been hit particularly hard, showing an increased likliehood of succumbing to disease in what have been very trying conditions. With many varieties in the hands of a sole grower, this does mean that some well-known tulips may be lost to cultivation.