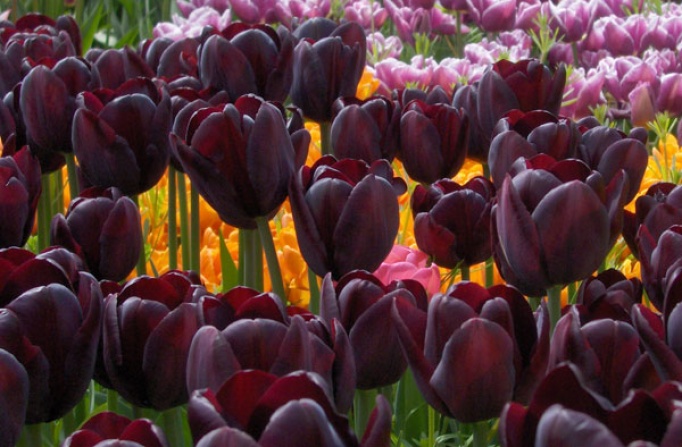 Tulips - Single Late
Tulipa 'Cafe Noir' in one of our display beds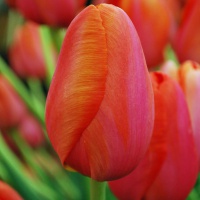 Tulipa 'Avignon'
Richly coloured flowers of flame-orange with a hint of deep rose. One of the 'French' tulips, which are tall, beautifully coloured and harmonise well with each other. We grow 'Avignon' with 'Menton' to great effect, especially when combined with 'Fire King' wallflowers. Flowering in late April - May at 24" (60cm) Bulb size 12+ cm Pack of 10 bulbs for £5.50 Pack of 50 bulbs for...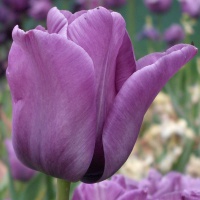 Tulipa 'Bleu Aimable'
Sought-after old variety with neat flowers of cool, lavender-blue. It gave rise to the sport 'Blue Parrot' but is itself hard to come by now. We love to grow it with the dark 'Paul Scherer'. 'Bleu Aimable' has often been justly claimed to be the 'bluest' of the so-called 'blue' tulips, along with its sport 'Blue Parrot'. Flowering in Late April - May at 20" (50cm) Bulb size 12+ cm Pack of 10...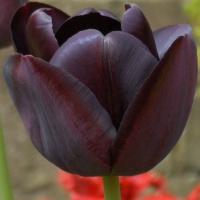 Tulipa 'Café Noir'
Gleaming flowers of chocolate-maroon. We have been offering this hard-to-find variety since 2005 - it is a good dark shade to add contrast to yellows, warm pinks & reds, since it has the same warm tones in its own colour make-up. Flowering in April - May at 20" (50cm) Bulb size 12+ cm Pack of 10 for £5.00 Pack of 50 for £20.00 Pack of 100 for £35.00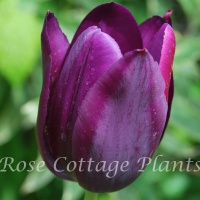 Tulipa 'Caravelle'
Lovely deep claret blooms, which are a wonderful foil for brighter colours. Flowering in April - May at 18" (45cm) Bulb size 12/14 cm Pack of 10 bulbs for £7.00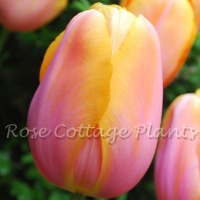 Tulipa 'Dordogne'
Salmon pink flowers, suffusing out to gold at the petal edges. Blends beautifully with other 'French' tulips, such as 'Menton' & 'Avignon', which also have the same flowering time & height (late April/May, 24" (60cm). Bulb size 12+ cm Pack of 10 bulbs for £5.00 Pack of 50 bulbs for £24.00 LOWER PRICES FOR 2020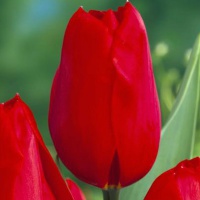 Tulipa 'Kingsblood'
A good, rich and classic red - no hint of orange. Flowering in April - May at 20" (50cm)l Bulb size 12+ cm Pack of 10 for £5.50 Pack of 50 for £25.00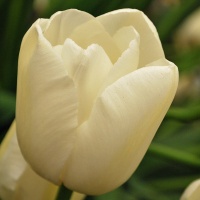 Tulipa 'Maureen' AGM
Classic white tulip, flowering right at the end of the tulip season and with sufficient height to stand above emerging perennial plantings. Another of the 'French' tulips. Flowering in late April - May at 24" (60cm) Bulb size 12+ cm Pack of 10 for £7.50 Pack of 50 for £35.00 Pack of 100 for £60.00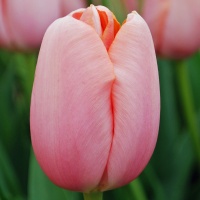 Tulipa 'Menton' AGM
Lovely, elegant tulip, with flowers in a delicious blend of pale apricot and pink. Height is statuesque and it looks wonderful if you have large containers to fill. One of the 'French' tulips, bred for the cut flower market in that country. Flowering in late April - May at 24" (60cm) Bulb size 12+ cm Pack of 10 for £5.50 Pack of 50 for £25.00 Pack of 100 for £42.00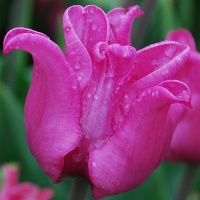 Tulipa 'Picture' AGM
A unique shape & long-lasting flowers of soft rose-pink, with a paler edge, make for a highly desirable variety. The neat flowers hold their shape well, remaining tidy in appearance until they finally drop their petals. Flowering in late April - May at 16" (40cm) Bulb size 12+ cm Pack of 10 for £6.50 (same prices as 2019) Pack of 50 for £30.00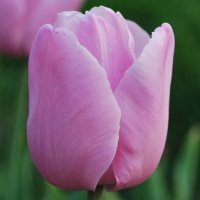 Tulipa 'Pink Diamond'
Strong growing tulip, with the loveliest of pink flowers which fade to lighter pink at the petal edges. Flowering in April - May at 20" (50cm) Bulb size 12+ cm Pack of 10 for £5.50 Pack of 50 for £24.00 Pack of 100 for £44.00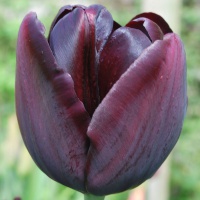 Tulipa 'Queen of Night'
Deep velvet maroon-black flowers with a satin sheen to the petals. Probably the darkest of the maroon-black tulips available, this reliable variety is wonderful for bringing a note of drama to 'warm' colour schemes, which echo its own red undertones. Flowering in April - May at 20" (50cm) Bulb size 12+ cm Pack of 10 for £4.50 Pack of 50 for £19.00 Pack of 100 for £35.00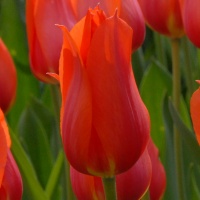 Tulipa 'Temple of Beauty' AGM
New in 2019 Flowers of salmon-orange, flamed with deep carmine-rose. One of our tallest tulips at 24" (60cm). A stunning tulip, flowering late April/May. Bulb size 12+ cm Pack of 10 bulbs for £5.50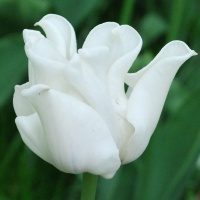 Tulipa 'White Lieberstar'
A recent introduction, similar in shape to 'Picture', but in a clear white form. We have been really impressed with this variety which, like 'Picture', holds its flowers well. Flowering in late April - May at 18" (45cm) Bulb size 12+ cm Pack of 10 bulbs for £5.50 (same prices as 2019) Pack of 50 bulbs for £25.00