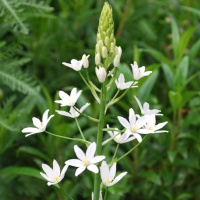 Ornithogalum magnum Moskou
We are offered new varieties of ornithogalum each year but they seem to differ little from o. magnum, which was in our collection for many years and remains in our own borders. This is actually good news, as that is an excellent variety, which appears to have temporarily disappeared from the scene (they say due to virus but we have never seen any in ours). They all carry tiers of starry white flowers,...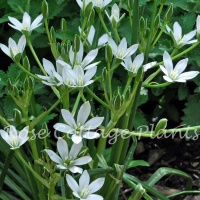 Ornithogalum oligophyllum (formally 'balansae')
Rare & pretty little bulbous plant bearing short stems of starry white flowers, with a green stripe on the reverse of the petals. We have long had this in our garden collection but only just addied it to our mail order range last season, as we believe it should be more widely grown. Hardy for sun & well-drained soil. Flowering in April at 2-4" (5-10cm). Bulb size 6+ cm Pack of 15 bulbs...