Muscari
Essential garden bulbs, bringing colour and scent into the spring garden and providing an early source of nectar for bees, which adore them. Easy-going, they will mostly thrive in any well-drained soil in sun or partial shade, with the exception of m.comosum & m.macrocarpum which require a sun-baked spot.
Muscari have gained something of a bad reputation for being prolific self-seeders, especially as they often appear in unwanted places. This is on account of just two of the many species in cultivation being badly behaved. As far as the varieties we offer are concerned, we can only say 'you should be so lucky!'. If in doubt, and to conserve the bulbs' energy for re-flowering in the future, the simple answer is to deadhead as the flowers go over.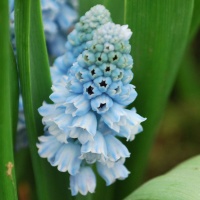 Muscari azureum AGM
Delightful species for naturalising, since it will quickly spread itself around, enlivening the earliest days of spring with its vibrant, sky-blue flowers. Ht.6" (15cm).Bulb size 6+ cm Pack of 15 bulbs for £3.00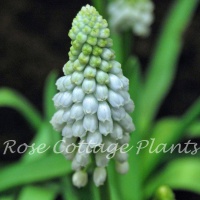 Muscari 'Baby's Breath' (syn. 'Jenny Robinson')
Flowers of the most delicate baby blue in spring. It's synonym 'Jenny Robinson' acknowledges the former national collection holder of muscari who raised this variety and named it 'Baby's Breath'. Wonderful scent and a great bee magnet, Ht. 6" (15cm). Bulb size 8+ cm Pack of 10 bulbs for £3.00 Pack of 50 bulbs for £12.00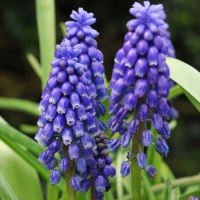 Muscari 'Bling Bling'
Rcent introduction with shiny, sizeable flowers of bright blue and an absolute bee magnet!. Very striking. Ht.6" (15cm). Bulb size 8+ cm Pack of 10 for £5.50 Pack of 50 for £24.00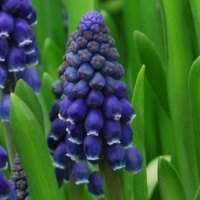 Muscari 'Joyce Spirit'
Dramatically coloured new variety with flowers of deepest Royal Blue, with a neat white edge. Flowering in April at 4-5" (10-12cm). Bulb size 7+ cm Pack of 15 bulbs for £3.50 Pack of 50 bulbs for £9.00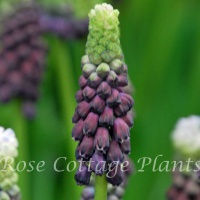 Muscari 'Grape Ice'
Wonderful recent introduction - the flowers are dusky purple-blue, with a contrasting white top. Very distinctive. Flowering in April/May at 4-8" (10-20cm). Bulb size 6+ cm Pack of 10 bulbs for £5.50 (Larger bulbs and lower price for 2021).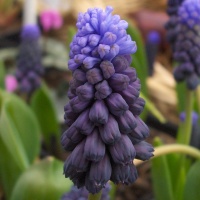 Muscari latifolium
Delightful two-tone blue flowers distinguish this desirable variety of grape hyacinth. Hardy, spring flowering bulb for sun/part shade. Ht. to 10" (25cm).Bulb size 7+ cm Pack of 15 £3.00 Pack of 50 £8.00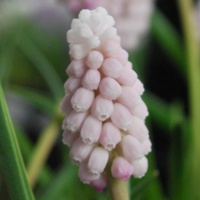 Muscari 'Pink Sunrise'
Truly delightful variety.The flowers are neat and of a delicate pink hue, and come back well each year. Bulb size 6+cm Pack of 5 for £6.00 Pack of 15 for £15.50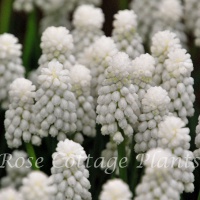 Muscari 'Siberian Tiger'
Really nicely formed little white muscari - great for early pots and in the border. Flowering in April at 4-8" (10-20cm). Bulb size 8+ cm Pack of 10 bulbs for £3.50 Pack of 50 bulbs for £13.50