Eremurus
These spectacular plants, commonly known as ' Foxtail Lilies', make wonderful exclamation marks in the border, providing height without the need to stake.

They need a sunny, well-drained site, where they will build up into sizeable clumps in time, flowering in early summer. The tallest are the species himalaicus and robustus. Both will produce viable seed if not deadheaded but it may be preferable to remove the faded flower stems to encourage the plants to put their energy into building larger clumps.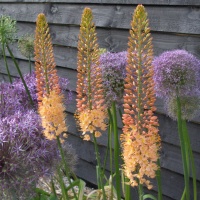 Eremurus 'Cleopatra'
Magnificent spires of apricot-orange in mid-summer. Ht. 4.5' (150cm).Pack of 3 roots for £7.50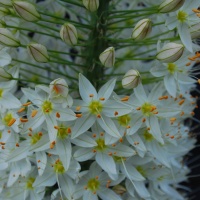 Eremurus himalaicus
Stately, white-flowered foxtail lily - this species is a native of the himalayas. One of the tallest of the eremurus family, this never fails to have impact. The flowers are a 'soft' white, often tinged pink in bud. Ht.5' (150cm). Pack of one root for £8.50 Pack of 3 roots for £22.00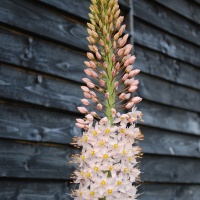 Eremurus robustus AGM
Enormous spikes of soft-pink flowers on sturdy stems. This, together with e.himalaicus are the giants of the eremurus family. Flowers early-summer. Ht. 70-90" (1.75-2.25m) The image of Jack standing next to a robustus in a 5L pot was taken at the end of June. It was potted in January that year and reached about 260 cm or 103" (8' 7") in height.Pack of one root for £8.50 Pack of...