Eremurus
These spectacular plants, commonly known as ' Foxtail Lilies', make wonderful exclamation marks in the border, providing height without the need to stake.

They need a sunny, well-drained site, where they will build up into sizeable clumps in time, flowering in early summer.
* We often have a very limited number of potted eremurus on the nursery available to visitors only, which flower May/June. Please telephone us if you require further information (price, size, number, etc)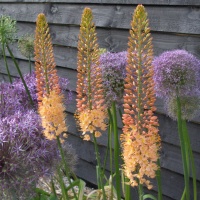 Eremurus 'Cleopatra'
Magnificent spires of apricot-orange in mid-summer. Ht. 4.5' (150cm).Pack of 3 roots for £6.00 Pack of 10 roots for £17.50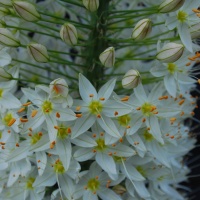 Eremurus himalaicus
Stately, white-flowered foxtail lily - this species is a native of the himalayas. One of the tallest of the eremurus family, this never fails to have impact. The flowers are a 'soft' white, often tinged pink in bud. Ht.5' (150cm). Pack of 3 roots for £21.00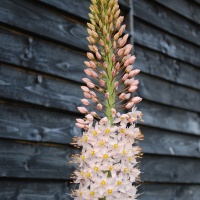 Eremurus robustus AGM
Enormous spikes of soft-pink flowers on sturdy stems. This, together with e.himalaicus are the giants of the eremurus family. Flowers early-summer. Ht. 70-90" (1.75-2.25m) The image of me standing next to a robustus in a 5L pot was taken at the end of June. It was potted in January that year (2015) and I am about 6'2" tall, and has reached about 260 cm or 103" (8' 7") in height.Pack of 3 roots...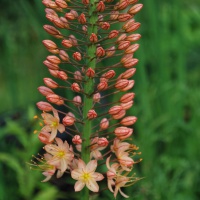 Eremurus 'Romance'
Lovely selection of Ruiter hybrid.The deep apricot buds open peach-pink. Majestic border plant, providing stature over a long season. Ht.4' (120cm) or more. Pack of 3 rootstocks for £9.50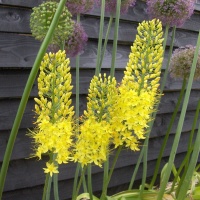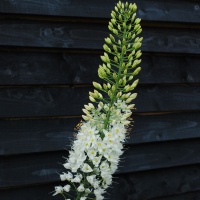 Eremurus 'White Beauty Favourite'
White-flowered foxtail lily - a new strain of the famous Ruiter hybrid forms. Pure white eremurus are much sought-after and always carry a premium. Ht. 4'+ (125 cm)Pack of 3 for £14.50 Pack of 10 roots for £45.00