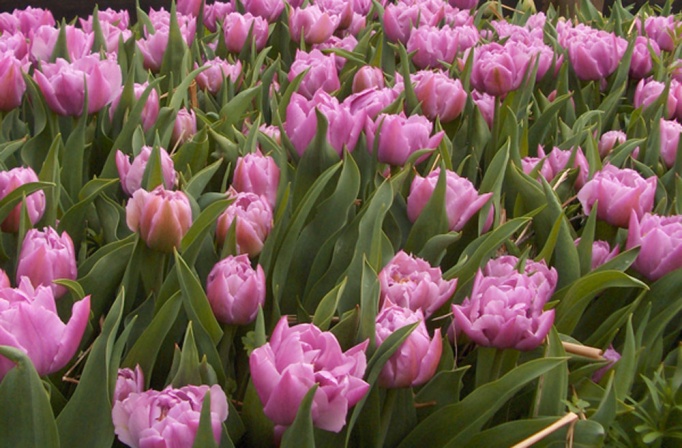 Tulips - Double Early
With their early flowering and neat stature, the double early tulips are absolutely ideal for front of borders or in containers, teamed with lower growing plants. Whilst 'Peach Blossom' is an established favourite, our other offerings are new or hard-to-find varieties.

SAVE UP TO 20% WHEN YOU BUY A 50 PACK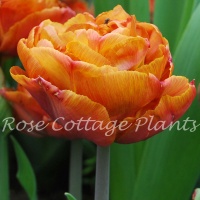 Tulipa 'Brownie'
New for 2018 We trialled this new variety in our border last year and really enjoyed its warm, copper-orange flowers. The blooms kept a neat shape and its shorter stature would make it a great candidate for container planting. Flowering in April at 14" (36cm). Bulb size 12+ cm Pack of 10 bulbs for £8.00 Pack of 50 bulbs for £33.50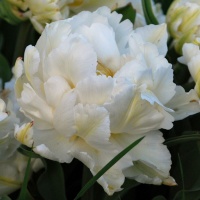 Tulipa 'Cardinal Mindszenty'
SCENTED! Double white flowers of good form & robustness and with a lovely scent too.Flowering in April at 10" (25cm)Bulb Size 11/12 cmPack of 10 for £7.50 (Prices same as 2017) Pack of 50 for £33.00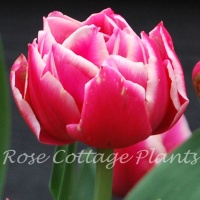 Tulipa 'Columbus'
New for 2018 Double early tulip with bright rose-pink flowers, edged white. The flowers are very full but hold up well on strong stem, making it a huge favourite with florists. We grew ours in a large container last year, where they really stood out well against the black boarding of one of our Essex barns. Flowering in April at 16" (40cm). Bulb size 12+ cm Pack of 10 bulbs for £5.00 Pack...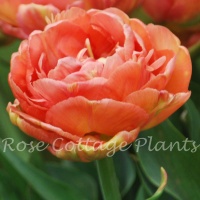 Tulipa 'Copper Image'
* New in 2017 * Warm copper -rose tones and fully double blooms make for a wonderful double early flowering tulip. It is pictured with 'Amazing Grace', which makes a great planting partner, flowering at the same time and height. Flowering in April at 15" (38cm). Bulb size 12+ cm Pack of 10 for £7.50Pack of 50 for £35.00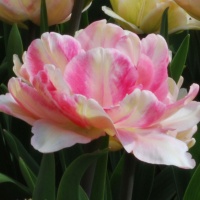 Tulipa 'Foxtrot'
We introduced this variety to the UK a few years ago, after being bowled over by it at Keukenhof. We subsequently supplied bulbs to Gardening 'Which' for their bulb trials, where it won a 'Best Buy' award.The double flowers are in warm tones of pink/rose/white and are held up beautifully on strong stems. It is a little taller than most tulips in this group. Flowering in April at 16" (40cm) Bulb...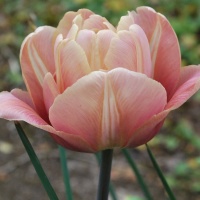 Tulipa 'La Belle Epoque'
Softly double flowers of an arrestingly unusual salmon-pink. Blends well with other tulips in the peach/copper/old rose colour range. Flowering in April at 18" (45cm)Bulb size 12+ cm Pack of 10 for £8.00 (Same prices as 2017) Pack of 50 for £37.50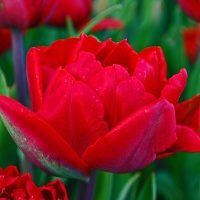 Tulipa 'Red Princess'
Sumptuously rich red, double flowers. Flowering in April at 14" (35cm)Bulb size 12+ cm Pack of 10 for £6.00 (Same prices as 2017)Pack of 50 for £27.00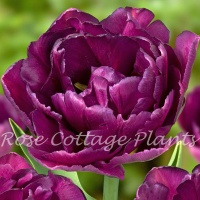 Tulipa 'Showcase'
New for 2018 This stunning tulip has fully double flowers of rich blackcurrant-purple. It flowers in late March/April at 16" (40cm), so great for containers and front of border. Bulb size 12+ cm Pack of 10 bulbs for £5.50 Pack of 50 bulbs for £25.50