Tulips - Darwin Hybrids
We find many of the tulips in this group too big and blousy to stand up to the weather well and the colour range has historically been somewhat limited. Indeed, these are usually the red or yellow tulips seen popping up in established cottage gardens annually. This is their strong point - they are renowned for their reliability in reflowering year-on-year, so if you find one that you like, it may stay with you forever. Recent hybridisation has now started to expand the colour range and we have selected the best.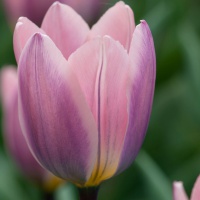 Tulipa 'Light & Dreamy'
This beautiful new tulip won many public votes for most popular tulip at the Wisley trials in spring 2014. The flowers have a pink base with mauve flaming, fading to near white at the petal tips.The flower centres glow rose pink and the stems are dark. Mesmerisingly lovely. Flowering in April at 22" (55cm) Bulb size 12+ cm Pack of 10 for £7.50 (Prices same as 2017) Pack of 50 for £33.00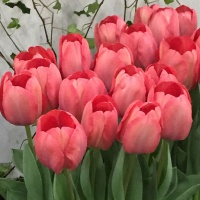 Tulipa 'Mystic Van Eijk'
New in 2017 Gorgeous, salmon-rose pink blends, with a hint of green. The darker centre really 'lights up' the flowers with an inner glow. Darwin tulip flowering in April-May at 20" (50cm) Bulb size 12+ cm Pack of 10 bulbs for £4.50 Pack of 50 bulbs for £19.50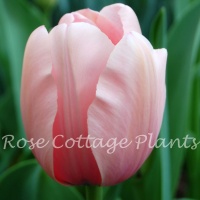 Tulipa 'Salmon Impression'
New for 2018 We have chosen this lovely tulip as our alternative to 'Apricot Beauty', which is now unavailable due to disease issues. The colours of the two tulips are by no means the same but they do share a lovely dreamy, ethereal quality, which other contenders do not possess. The flowering time is also similar, with 'Salmon Impression' additionally bringing the reliability of its Darwin...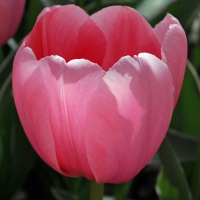 Tulipa 'Sweet Impression'
New in 2015 Flowers of a lovely, light and warm pink, appear lit from within. All the reliability of a Darwin tulip in a very fetching colour. Flowering in April at 24" (60cm) Bulb size 12+ cmPack of 10 for £4.00 Pack of 50 for £17.50