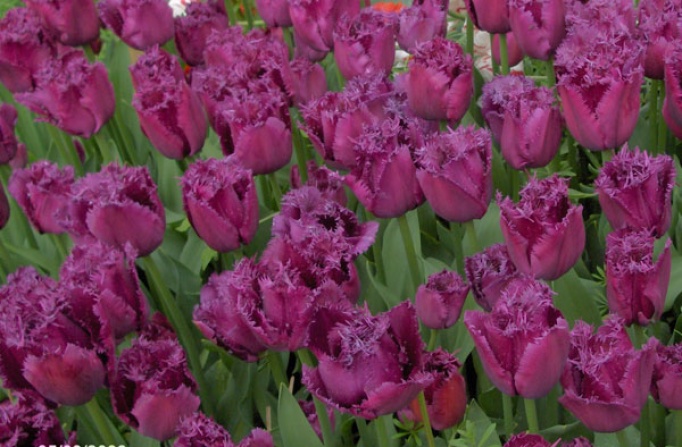 Tulips - Fringed
The tulips with an edge - the prettily fringed petals can be self-coloured or contrasting at their rims but they all become more beautiful as they age and reflex their petals to better show off their individuality. A recent addition to their ranks are double fringed varieties. Still something of a rarity, these have a pleasingly full, yet uncrowded, form, holding their flowers up well on strong stems.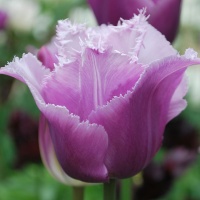 Tulipa 'Blue Heron' AGM
Beautifully formed flowers of soft mauve-blue, the colour fading to almost white at the fringed edges. Really easy-on-the-eye and another 'good mixer'. Flowering in late April - May at 20" (50cm) Bulb size 12+ cm Pack of 10 for £5.00 Pack of 50 for £20.00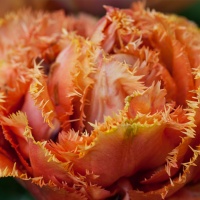 Tulipa 'Brisbane'
New in 2022 Exciting, new, double fringed variety. The very full flowers are a blend of rose and salmon-orange, fading to gold at the delightfully fringed petal edges. Sure to bring the 'wow' factor to beds and containers. Flowering in late April/May at 15" (39cm). Bulb size 11/12 cm Pack of 10 bulbs for £8.00 Pack of 50 bulbs for £37.50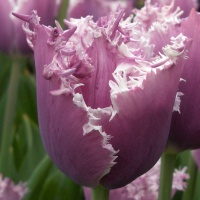 Tulipa 'Cummins'
This lovely mauve-pink tulip boasts quite extravagant fringing in nicely contrasting white. It is slightly taller than the other fringed tulips listed, so, apart from being exceptionally pretty, is useful when height is needed. Flowering in late April - May at 18" (45cm) Bub size 12+ cm Pack of 10 for £10.50 Pack of 50 for £51.00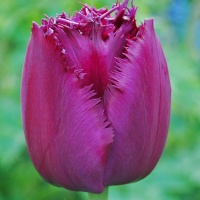 Tulipa 'Curly Sue'
Beautiful, charismatic tulip. The fringing is self-coloured but this colour changes subtly, both as the flower ages and in different qualities of light, producing shades of wine, from claret to burgundy. We added this variety to our permanent tulip plantings when it first came out, over 10 years ago, and It has proved reliablly perennial. Flowering in April - May at 16" (40cm) Bulb size 12+ cm ...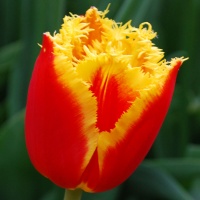 Tulipa 'Davenport'
The flowers are vibrant red with an effectively broad band of yellow fringing to the petal edges. Flowering in April - May at 18" (45cm) Bukb size 12+ cm Pack of 10 for £7.50 Pack of 50 for £34.50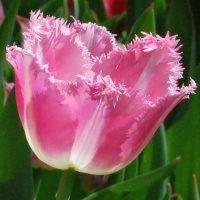 Tulipa 'Fancy Frills'
Really pretty tulip, with petals which start white at the base, becoming pinker towards the fringed tips. Lovely mixed with white tulips. Flowering in April - May at 18" (45cm)l Bulb size 12+ cm Pack of 10 for £5.00 Pack of 50 for £18.00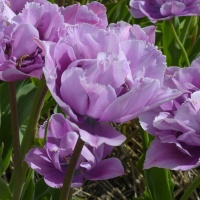 Tulipa 'Great Barrier Reef'
New in 2022 Very beautiful new, double-fringed variety. The full blooms are of the loveliest lavender-blue, with subtle fringing to the petal edges. Flowering in late April/May at 16" (40cm). Bulb size 12+ cm Pack of 10 bulbs for £9.50 Pack of 50 bulbs for £46.00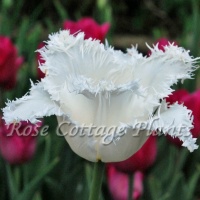 Tulipa 'Honeymoon'
Purest white petals with heavily fringed edges. Long-lasting flowers which become increasingly beautiful as they mature, with the brilliance of the white intensifying and the fringing better displayed as the petals reflex.Flowering in April - May at 18" (45cm) Bulb size 12+ cm Pack of 10 for £5.00 Pack of 50 for £22.50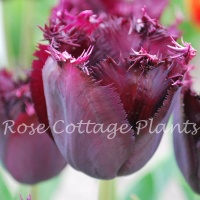 Tulipa 'Labrador'
New in 2018 Beautiful fringed tulip, with petals of deepest plum-purple. Flowering in April/May at 20" (50cm). Bulb size 12+ cm * Same Prices as 2022 * Pack of 10 bulbs for £5.00 Pack of 50 bulbs for £20.00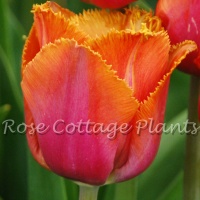 Tulipa 'Louvre Orange'
New in 2021 Richly coloured tulip with a deep pink base rising to deep orange, with delicately fringed petal edges. Very striking. Flowering in April/May at 20" (50cm). Bulb size 12+cm Pack of 10 bulbs for £9.00 Pack of 50 bulbs for £42.00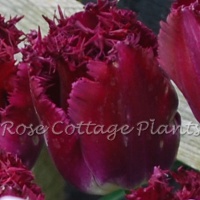 Tulipa 'Purple Crystal'
New in 2021 Rich purple flowers, with lightly fringed petals and a white base. Flowering April/May at 16" (40cm). Bulb size 12+ cm Same Prices as 2022 Pack of 10 bulbs for £5.00 Pck of 50 bulbs for £20.00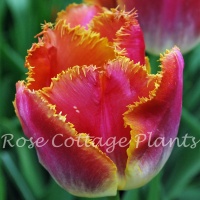 Tulipa 'Sunset Miami'
New in 2019 If you like your tulips to have real razzmatazz, this is for you. A real stand-out variety, sporting all the colours of the most dramatic of sunsets, full of warmth & vibrancy. Flowering in April/May at 20" (50cm). Bulb size 12+ cm Pack of 10 bulbs for £9.50 Pack of 50 bulbs for £42.00