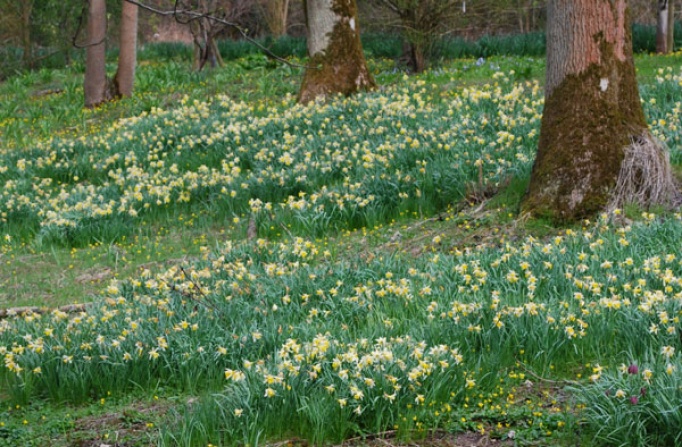 Narcissus
Our collection of narcissus (popularly known as daffodils), features predominantly the smaller varieties and some species. These have the advantage of being useful in containers as well as borders and are especially appropriate in smaller gardens. In the open garden they are far more weather resistant than tall, top-heavy types, and they also die down more discreetly, their less obvious foliage being quickly obscured by the surrounding growth of neighbouring plants. Many are eminently suitable for naturalising. Last year, we added a couple of historic varieties, which can be difficult to come by but which we love for their elegant informality. These proved popular with customers and are offered again this season.

AGM denotes the Royal Horticultural Society's Award of Garden Merit.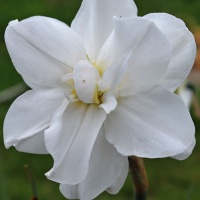 Narcissus albus plenus odoratus
'Heirloom' variety with lovely, fragrant, double flowers which resemble miniature white roses. This is the double flowered form of the pheasant's eye narcisus and can be hard to come by. Flowering in late spring at 12-14" (30-36cm). Bulb size 12+ cm Pack of 5 bulbs for £5.00 Pack of 15 bulbs for £12.50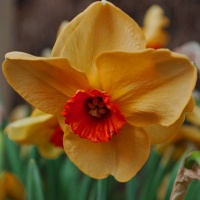 Narcissus 'Altruist'
Small cupped daffodil sporting flowers of a most distinctive apricot hue. It was a sensation on our display at the RHS Spring Show, Westminster, when we re-introduced it a few years ago. Only recently available in commercial quantities. The flowers retain their colouring best in dappled shade. Flowering in April. Ht. 16" (40cm).Bulb size 12/14 cm Pack of 5 for £4.00 (Same prices since 2017) Pack...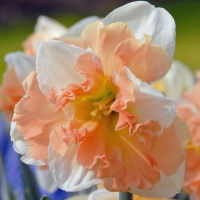 Narcissus 'Apple Pie'
New for 2020 New, split-corona type narcissus, with white petals and ruffled apricot cup. Flowering in April at 14" (35cm). Bulb size 12/14 cm Pack of 3 for £4.50 Pack of 10 for £13.50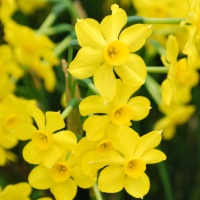 Narcissus 'Baby Boomer'
Charming little jonquil with a wonderful scent and producing 5-10 flowers per stem. A recent introduction with a big future. Height 8" (20cm). Bulb size 12+ cm Pack of 10 for £4.50 Pack of 50 for £20.00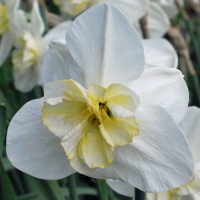 Narcissus 'Bella Estrella'
The name translates as 'Beautiful Star' and it is as unusual as it is lovely - a jonquil daffodil with a split cup. The petals are white, the cup palest yellow and the flowers, produced in April, have a lovely fragrance. Ht.16"+ (40cm+) Bulb size 10/12 cm Pack of 5 for £5.00 Pack of 25 for £21.00 LOWER PRICES FOR 2020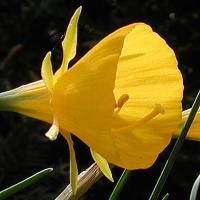 Narcissus bulbocodium conspicuus AGM
The yellow 'hoop petticoat' daffodil - conspicuus being a strong growing form which holds its own in garden conditions. Ht. 4-8" (10-20cm).Bulb size 6+ cm Pack of 10 bulbs for £4.50 Pack of 30 bulbs for £12.00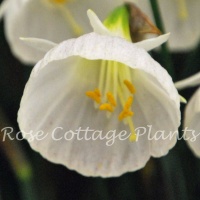 Narcissus bulbocodium 'White Petticoat'
New in 2019 Delightful white flowered variety of hoop petticoat narcissus, showing excellent vigour. Flowering March/April at 8" (20cm). Bulb size 8+ cm Pack of 10 bulbs for £7.50 Pack of 25 bulbs for £16.50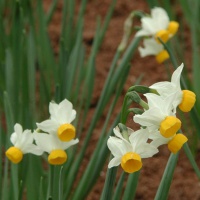 Narcissus canaliculatus
Daintiness personified – Miniature wild variety with each stem carrying 3-4 flowers sweetly scented flowers of white with golden cups in March/April. Hardy bulb for naturalising in the border or rock garden where they can enjoy full sun and a summer baking. Ht.6" (15cm) Bulb size 12+ cm Pack of 10 for £3.00 Pack of 50 for £12.00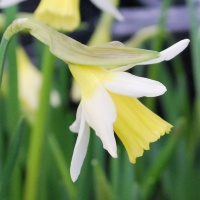 Narcissus 'Elka' AGM
Delightfullly elegant little narcissus. Early flowering (March/April), with pale lemon trumpet, turning cream, and ivory perianth. Ht.6" (15cm). Bulb size 8+ cm Pack of 10 for £5.00 Pack of 50 for £22.50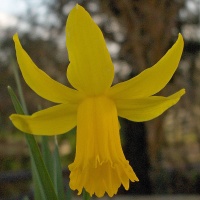 Narcissus 'February Gold' AGM
Rightfully popular cyclamineus variety with golden yellow flowers with backswept petals. Very early in flower (Feb-March) & perfect for naturalising in borders or for containers. Hardy bulb. Ht.12" (30cm). Bulb size 14+ cm Pack of 10 for £6.50 Pack of 30 for £17.00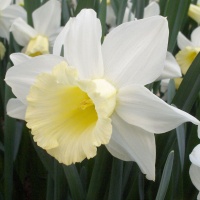 Narcissus 'February Silver'
Sought-after variety with softer colouring than 'February Gold' but a similarly long flowering period. Easy & reliable but often in limited supply.Flowering February - March. Ht.10" (25cm). Bulb size 10+ cmPack of 5 for £6.50 Pack of 25 for £31.00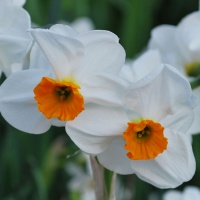 Narcissus 'Geranium' AGM
A fragrant beauty with orange-cupped white flowers in April. Ht. 14" (35cm).Bulb size 14/16 cm Pack of 10 bulbs for £7.00 Pack of 25 bulbs for £15.00