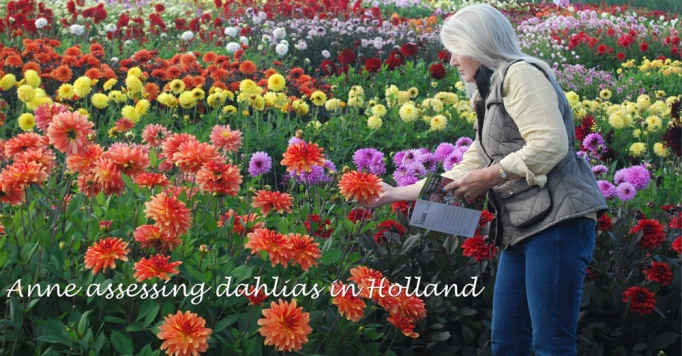 Dahlias
Dahlias are enjoying a huge renaissance in popularity as gardeners realise their value in providing a riot of colour from mid-summer to the first frosts. Just as many perennials are beginning to flag in the heat of summer, dahlias are coming into their own, revelling in the warmth to produce wave after wave of their exuberant blooms. Give them a sunny position with a rich soil and they cannot fail to please.
We are constantly evolving our range of dahlias to benefit from the introduction of new, improved varieties, and believe that the selection we now offer allows many harmonious and exciting colour combinations to be made. In every part of the colour spectrum we have tried to include a variety of different dahlia types, to give contrasting shapes and heights within a planting scheme. We have also added the sizes of the flowers, as well as plant heights, since this is difficult to gauge from a photographic image, and can vary enormously from one variety to another. Please use the dimensions as a guide rather than an absolute - actual dimensions can show considerable variations, due to differing cultural conditions.
This year, we have added the facility to choose dahlias for their suitability for cutting & for containers under the 'filter by attributes' selector on the top left of the page. These selections are by no means exhaustive - we all have our own ideas about these things - but they do represent 'failsafe' choices, so that dahlias for cutting will all have a decent length of stem and container selections will fill a pot without the plants appearing 'leggy' or thin. You can also access our (small) range of organic dahlia tubers under the same function.
NOTE: We supply all our dahlias as top-sized tubers. The actual tuber size will, however, vary according to variety and from season to season. In 2022, there will be the option to buy tubers singly for some varieties, although our packs of 3 tubers continue to offer the most outstanding value for money.

AGM after a variety name denotes the accolade of the Royal Horticultural Society's Award of Garden Merit.

Pre-season ordering of dahlia tubers will be possible on-line from 1st January 2022 for delivery in spring 2022. Delivery is usually from mid-February, weather allowing (we do not ship if overnight temperatures are zero degrees or below). Earlier delivery can sometimes be arranged by request, for orders placed in the first week of January.
BREXIT - We regret that we are currently unable to ship orders outside the United Kingdom.
Note also that, from July onwards, we do have a good selection of pot grown dahlias available at our nursery on regular Friday openings, shows we attend and on our special open days.This often includes varieties which we hold in our collection but which are not available as tubers. Visitors can also see a wide range of dahlias growing on the nursery and in our display garden.
ALL STOCK OF TUBERS IS NOW SOLD OUT FOR 2021. NEXT AVAILABILITY 2022 - PRE-ORDERING FROM 1ST JANUARY, WITH MANY EXCITING NEW ADDITIONS TO OUR RANGE.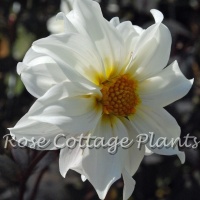 Dahlia 'Little Swan'
NEW in 2021 This lovely new dahlia comes from a Dutch breeder who specialises in raising dark leaved, compact varieties. In this selection, the near-black foliage contrasts well with the open-centred white flowers with their subtle darker veining and gently curvaceous form. It really stood out in the grower's trial fields and has been gaining many more admirers since featuring in the RHS Wisley...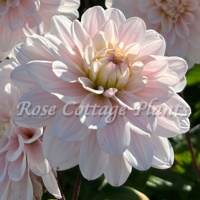 Dahlia 'Silver Years'
New in 2021 Delightful decorative-type dahlia. The white flowers have a delicate flush of pink, most markedly at the petal edges, and have a lovely form. In hot weather, the pink hue intensifies. Fabulous for cutting. Flower size 4.5" (110cm) Height 39" (1m) Pack of 3 tubers for £7.50 Pack of one tuber for £4.00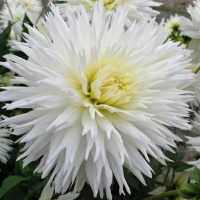 Dahlia 'Ice Crystal'
Perfectly named, this lovely recent introduction has pure white, fimbriated flowers. Flower size 6" (15cm)Height 32" (80cm) Pack of 3 tubers for £6.50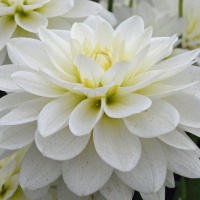 Dahlia 'Karma Maarten Zwaan'
Lovely white flowers of 'waterlily' form have a fresh touch of green/yellow at the centres. Like other 'Karma' varieties, this dahlia has been raised with the cut flower market in mind, so is an excellent candidate for the vase as well as the border. Flower size 5" (13cm) Height 32" (80cm) Pack of 3 tubers for £6.50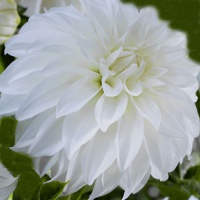 Dahlia 'Lady Liberty'
Pure white flowers of good size, with gently reflexed petals. Has proved hugely popular since we launched it a few years ago. Flower size 7" (18cm)Height 36" (90cm) Pack of 3 tubers for £7.50 Pack of one tuber for £4.00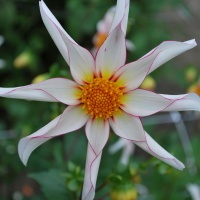 Dahlia 'Honka Fragile'
We were particularly taken with this lovely dahlia when it was first introduced a few years back and it has proved a best seller ever since. The flowers are beautifully formed, with an exquisitely fine outline of soft red. As mentioned by Monty Don on TVFlower size 2-3" (5-7cm)Height 24" (60cm) Pack of 3 tubers for £7.50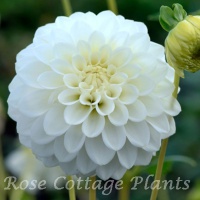 Dahlia 'Petra's Wedding'
Pure white, miniature ball dahlia. Great for cutting. Flower size 3" (8cm) Height 28" (70cm) Pack of 3 tubers for £7.50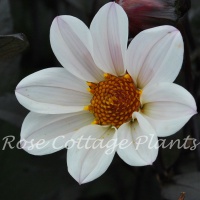 Dahlia 'HS Princess'
Single white flowers set against almost-black foliage. Makes lovely, bushy and compact plants, ideal for front of border or containers. (Three tubers, planted in a large wash copper, give us a wonderful show throughout the summer & autumn).Flower size 2" (5cm)Height 24" (60cm)Pack of 3 tubers for £6.50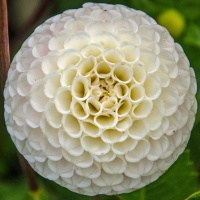 Dahlia 'Small World'
New for 2022 Pure white pompon dahlia. Very petite flowers but great stem length makes this variety ideal for cutting. Flower size 1.5" (4cm) Height 40" (100cm) Pack of 3 tubers for £9.50 Pack of one tuber for £5.00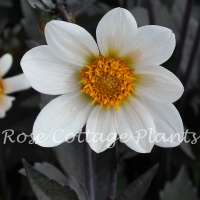 Dahlia 'Dahlegria White'
NEW IN 2019 'Dahlegria' dahlias are the newest range to be released by Holland's leading (recently retired) dahlia breeder (responsible for raising 'Karma' & 'Gallery' dahlias, amongst others). All the range have single flowers above dark foliage and fall in height between the existing 'Happy Days' & 'Happy Single' (HS) series. This white flowered variety is perfect for containers or...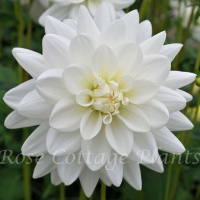 Dahlia 'Eternal Snow'
Beautiful, waterlily type, the white flowers having a touch of chartreuse at their centres. Highly recommended for cutting, with a vase life of 10 - 14 days! Flower size 4.25" (11cm) Height 3' (90cm) Pack of 3 tubers for £7.50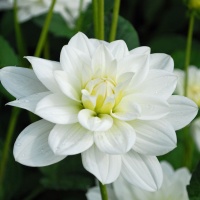 Dahlia 'White Onesta'
Recently introduced white-flowered form of this lovely waterlily dahlia. Excellent for the garden and for cutting. Flower size 4-6" (10-15cm) Height 40" (100cm) Pack of 3 tubers for £6.50