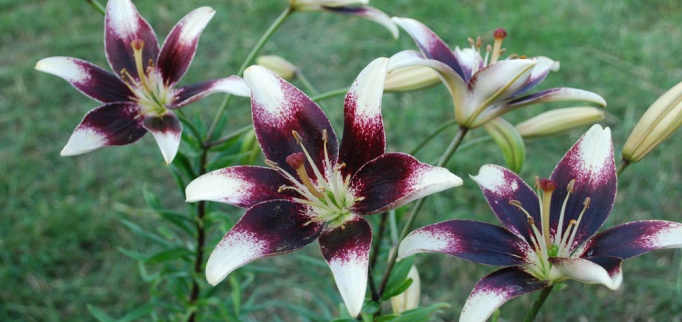 Lilium
Lilies are versatile, showy plants for the border or for deep containers.

Most are easily grown, given a fertile soil, with varieties available to suit a range of differing conditions, from woodland to sun-baked. Many varieties are richly scented.

All the varieties listed are tolerant of some lime in the soil. Note that most varieties will not achieve optimum height in their first season.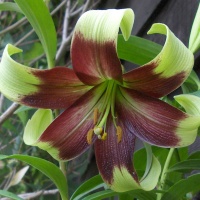 Lilium nepalense
Truly spectacular and rare Himalayan species. Nodding, pendent greenish-cream flowers blotched maroon-purple within, the petals to 6 long. Hardy, summer flowering bulb for a sheltered spot & humus-rich, peaty soil. Ht.28-36" (70cm-1m) (Note that this variety flowers from a small bulb).Bulb size I (top size) Pack of 3 bulbs for £13.50 Pack of 10 bulbs for £39.00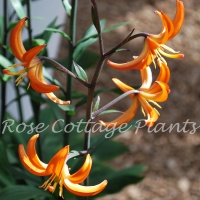 Lilium 'Orange Marmalade'
New in 2018 Vivid orange turkscap flowers, held on dark stems. Flowering in early summer at up to 5' (1.5m). Bulb size 12/14 cm Pack of one bulb for £5.00 Pack of 3 bulbs for £13.50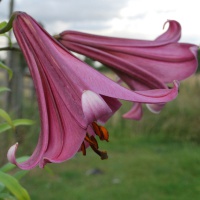 Lilium 'Pink Perfection' AGM
Large trumpet flowers of deep pink suffused with maroon & strongly perfumed. Summer flowering. Ht.6' (2m) or more, usually less in its first year.Bulb size 20/22 cm Pack of 3 bulbs for £9.50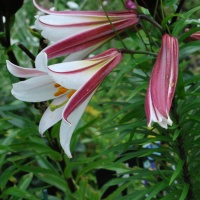 Lilium regale AGM
Large trumpet flowers of white are heavily flushed maroon on outside. Strongly scented & flowering mid-summer. Ht. to 5' (1.5m).Bulb size 20/22 cmPack of 3 bulbs for £9.50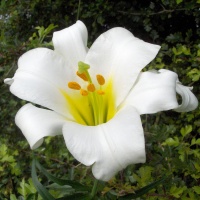 Lilium regale album
This is the pure white form of this heavily scented & always in demand lily, flowering mid-summer. Ht. to 5' (1.5m).Bulb size 20/22 cmPack of 3 bulbs for £9.50