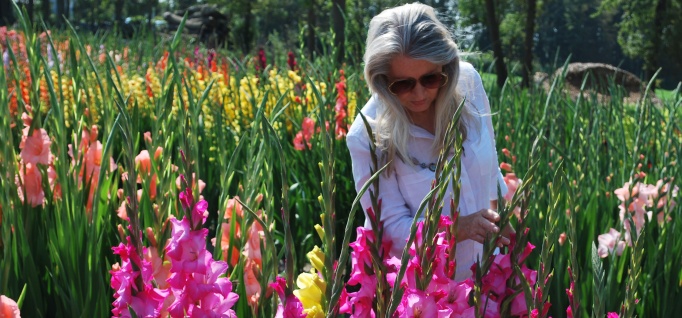 Gladiolus
Showy, frost tender, summer/autumn flowering corms, suitable for borders and for cutting. In milder regions they can often be left in the ground over winter if given a thick mulch and providing the soil is well-drained. Otherwise, they should be lifted and stored once the foliage has died back. They are good 'fillers', taking up comparatively little space at ground level for the considerable impact they achieve. If the grandiflora types are too stiff for your taste, the other options are both subtle and elegant.
AVAILABLE TO ORDER FROM 1ST JANUARY 2018 FOR DESPATCH FROM MARCH 2018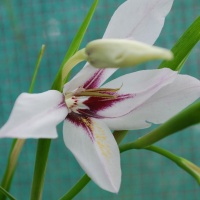 Gladiolus callianthus murieliae
Late summer flowering corm producing spikes of fragrant flowers - white, blotched deep purple at the base. Half-hardy (lift corms when foliage dies back). Ht.4' (1.2m).Corm size 10+ cmPack of 10 corms for £3.00 Pack of 30 corms for £7.50 Pack of 100 corms for £20.00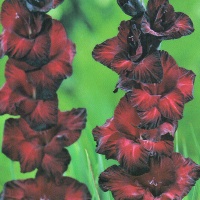 Gladiolus 'Espresso'
Dramatically dark flowers of maroon-black on sturdy stems. Height 39" (100cm)Bulb size 14+ cmPack of 10 corms for £4.50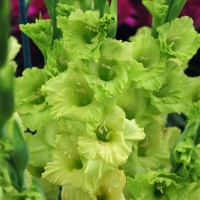 Gladiolus 'Evergreen'
Cool, lime green flowers with nicely ruffled edges. Height 39" (100cm). Corm size 12/14cmPack of 10 corms for £4.50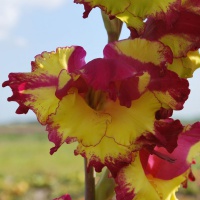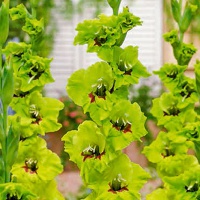 Gladiolus butterfly 'Fergie'
NEW in 2018 We loved the bright green, dark centred flowers of this butterfly gladiolus, as well as the neat shape of the flowers. It's a real go-with-anything colour but we fancy planting it with deep purple dahlias this season. Corm size 10/12cm Height 27" (70cm) Pack of 10 corms for £4.50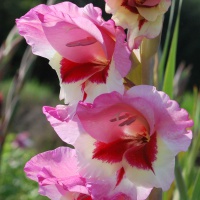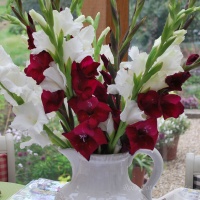 Gladiolus grandiflora 'Indian Summer'
We love these off-beat shades, such as this intriguing blend of dusky lilac and rose-peach. (New last year). Height 3' (90cm). Corm size 14+ cm Pack of 10 corms for £5.50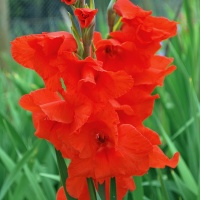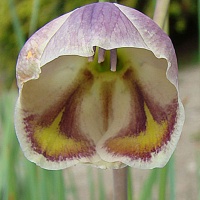 Gladiolus papilio
NEW FOR 2019 South African species gladiolus. Cream buds are produced in summer, which open in early autumn to reveal the subtly seductive beauty of the flowers. The pendant, bell-like blooms are flushed grey-purple to the outside but the real beauty lies within, where chartreuse droplets of colour are edged with purple feathering. Each flowering stem can bear up to ten blooms and the corms increase...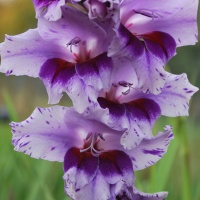 Gladiolus grandiflora 'Passos'
Exotic, orchid-like blooms, centred violet and with violet streaking to the white edges. Height 3' (90cm). Corm size 14+ cmPack of 10 corms for £5.50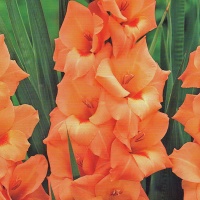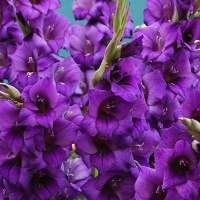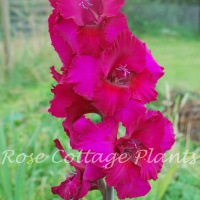 Gladiolus 'Sugar Plum'
NEW in 2018 Grandiflora gladiolus with magenta flowers - very striking. Height 39" (100cm) Corm size 12/14cm Pack of 10 corms for £4.50