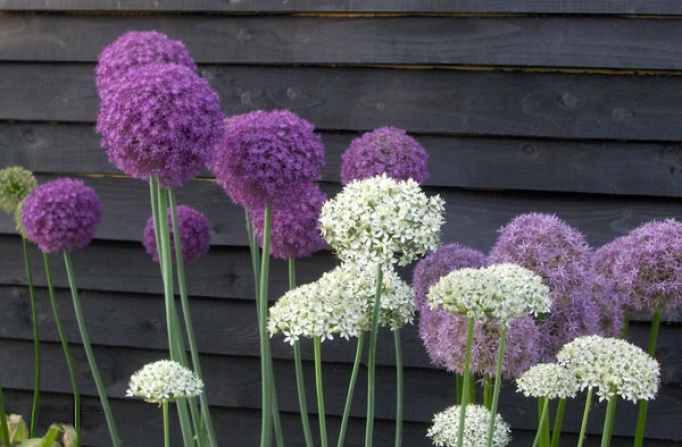 Alliums
Alliums have become the real 'stars' of the border over the last few years, giving huge impact whilst taking up minimal space. They are easily grown, given a fair amount of sun & well-drained soil.

We carry a comprehensive range - in excess of 40 different varieties - including some of the smaller species as well as the 'giant' varieties. Many of the new giant hybrids are sterile, resulting in a much longer flowering period than for most of the species alliums (it also means they can only be propagated vegetatively, which increases the initial cost of the bulbs). A large number of large-flowered alliums, both species and hybrids, have been included in our ongoing garden trials here at the farm, allowing us to make side-by-side comparisons. To assist gardeners who are new to growing alliums, we have noted outstanding selections (which must have performed well over several seasons) with a five star (✩✩✩✩✩) rating, but all our offerings have much to commend them as valuable, garden-worthy plants.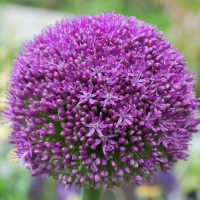 Allium Ambassador
A stunning Dutch hybrid with 8" diameter, dark purple flower heads. As a sterile hybrid, 'Ambassador' offers a long flowering period and is later than most of the other 'giant' varieties, due to having the late flowering a. giganteum in its parentage. Ht. 40" (100cm). ✩✩✩✩✩ Rating Bulb size 24+ cm TOP SIZE BULBS Pack of 3 for £ 12.50 Pack...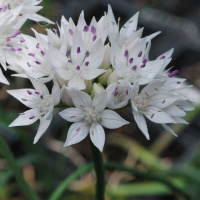 Allium amplectens 'Graceful Beauty'
Small globes of sparkling white flowers, with lavender stamens. Introduced in 2011 and immediately proved popular. Ht. 12" (30cm).Bulb size 6+cm * Still at 2018 Prices *Pack of 10 bulbs for £4.00 Pack of 30 bulbs for £10.00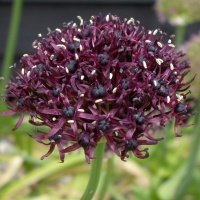 Allium atropurpureum
The darkest flowered allium available to date, with black-purple, half-spheres which hold their colour well over a long period. Pair it with the white, similarly shaped a.nigrum for a striking contrast. Ht. 2' (60cm).Bulb size 10+ cm 5 bulbs for £3.50 25 bulbs for £14.50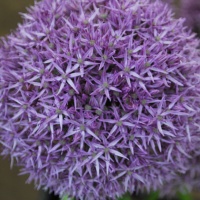 Allium 'Beau Regard' AGM
It goes well with the darker flowered, and better known, 'Globemaster', which is alike in every way except flower colour, being a result of the same cristophii x macleanii breeding. ✩✩✩✩✩ Rating (also recommended by "Gardening Which') Bulb size 20+ cm Pack of 3 bulbs for £15.50 Pack of 10 bulbs for £50.00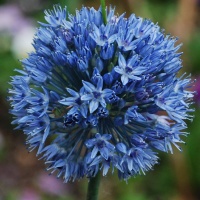 Allium caeruleum
Small species of 'globe' flowered allium. The blooms are true blue, held aloft on wiry stems. Ht. to 18" (45cm).Bulb size 5+ cm Pack of 15 bulbs for £3.00 Pack of 50 bulbs for £9.00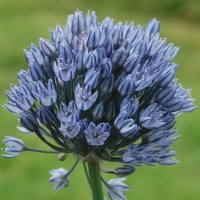 Allium caesium AGM
We first trialled this species in 2011 and found the soft blue flowers to be particularly long lasting. Over the years, it has also proved to be very easy and reliable. Ht.8" (20cm).Bulb size 5+ cm * Same Price as 2018 * Pack of 3 bulbs for £4.50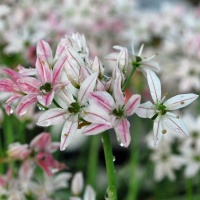 Allium 'Cameleon'
Blooms in mid-May, with clusters of dusky rose pink flowers that fade to white with pink veins as they age. Lovely planted in a group at the edge of a border. Height 9-12" (25-30cm). Bulb size 4+cm Pack of 15 bulbs for £3.50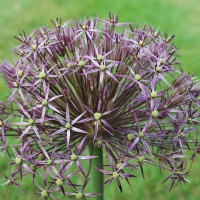 Allium cristophii AGM
Stunning spherical heads of metallic mauve flowers, which remain attractive into winter, long after their summer colour has faded. Ht. 12-16" (30-40cm) ✩✩✩✩✩ RatingBulb size 14+ cm Pack of 10 bulbs for £5.00 Pack of 30 bulbs for £13.50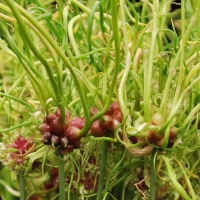 Allium vineale 'Dready'
Recent introduction, with totally bizarre, heavily tendrilled flowerheads. A flower arranger's dream! Bulb size 5+cm Ht. to 100 cm+ Pack of 15 bulbs for £3.50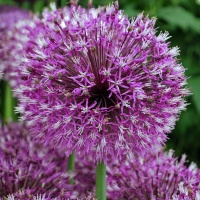 Allium jesdianum 'Early Emperor' AGM
This recent introduction, a selected form of allium rosenbachianum, has inherited that species' early flowering season but is a little more 'showy' in appearance. Very pretty and in flower before the other taller alliums, so useful for extending the season. Ht.40" (100cm).Bulb size 14+ cm Pack of 3 bulbs for £6.50Pack of 10 bulbs or £20.00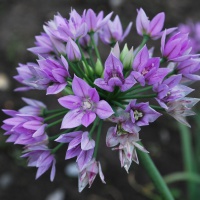 Allium 'Eros'
This recent introduction is like a deeper, more vividly coloured form of a.unifolium, with umbels of lilac flowers in early summer. A terrific little allium for growing through shorter, spreading perennials at front of border. Suitable for sun/part shade.Height 12-18" (30-45cm). Bulb size 5+ cm * Prices lower than 2018 * Pack of 15 bulbs for £3.50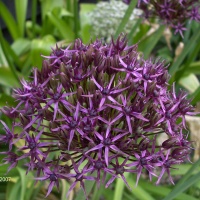 Allium 'Firmament'
A stunning cross between a.atropurpureum & a.cristophii. The dark amethyst flowerheads have a lovely metallic sheen and measure around 4.5" (12cm) with a height of 32" (80 cm). Flowering over a long period in May-June. Long admired by the bulb cognoscenti, this is an allium which deserves to be more widely grown. ✩✩✩✩✩ Rating Bulb size 8+ cm Pack of 3 bulbs...