New Products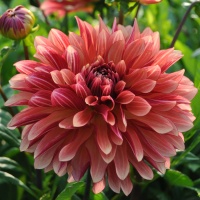 Dahlia 'Miss Brandy'
NEW for 2021 Pretty little dahlia with an informal shape and an overall soft bronze-orange colouring. The individual petals appear to have been touched by an artist's brush, with delicate streaking of deeper orange tones against a peach-pink base, darker on the reverse, for a lovely, soft-focus effect. The colour is strongest in hot weather, fading to softer tones later in the season. Flower...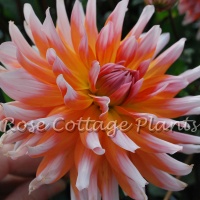 Dahlia 'Okapi's Sunset'
NEW for 2021 Inspirationally named, this stunning dahlia has all the fiery tones of the sun going down in an African sky. The warm orange tones fade out to near white at the petal ends and the colour develops to its strongest in hot weather. Flower size 5" (13cm) Height 39" (1m) + Pack of 3 tubers £7.50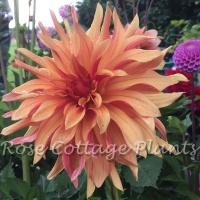 Dahlia 'French Cancan'
NEW for 2021 Pretty new variety with a loose, informal shape and two-tone orange flowers. The upper side of the petals is light tangerine, whilst the underside is a deeper, warm red-orange. Both colours are seen together due to a slight twist of the petals. If you are an admirer of 'Gallery Art Deco' but would like something taller, this could be perfect for you. A good stand-in also for 'Jescot Julie'...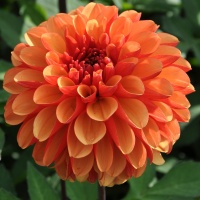 Dahlia 'American Sunset'
NEW for 2021 Neatly formed flowers of zingy two-tone orange. The surface of the petals is light orange, with the richer shade on the reverse. As the petals have a slight inward curve, both shades are visible at once - a really striking effect. Flower size 3.5" (9cm) Height 28" (70cm) Pack of 3 tubers £7.50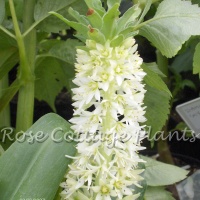 Eucomis 'Playa Blanca'
New for 2021 Starry white flowers clustered around sturdy stems and topped by typical green 'pineapple' bracts. Blooms appear in late summer/autumn, above strappy dark green leaves with wavy margins. Ht. 2' (60cm). Bulb size 16/18cm Pack of 3 bulbs for £10.00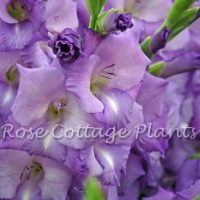 Gladiolus Côte d'Azur
New for 2021 Purple buds open to lavender flowers with ruffled edges and white throats. Not blue (as the name might suggest) by any stretch of the imagination but very lovely nonetheless! Ht. 39" (100cm). Corm size 12/14 cm Pack of 10 corms for £6.50 Pack of 30 corms for £16.00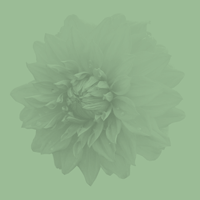 Gladiolus 'Vulcano'
New for 2021 Neat little nanus type of gladiolus with vibrant flowers of fuchsia-pink, with a white throat and violet-blue on the lip. Fantastic for adding vertical bolts of colour through the border and also great for cutting. Ht. 18" (45cm). Corm size 10+ cm Pack of 10 corms for £5.00 Pack of 30 corms for £12.50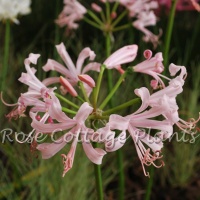 Nerine bowdenii Amandi ®
New for 2021 Beautiful blooms of soft pink, for those who like their nerines a little subtler. Flowering in autumn at 18" (45cm). Bulb size 12+ cm Pack of 3 bulbs for £4.00 Pack of 10 bulbs for £11.50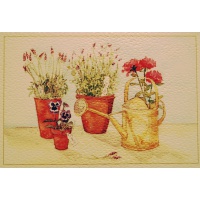 Gift Cards
Gift Card for your message. Please write your message in the 'delivery instructions' when you are completing your order.