Late Autumn & Winter Flowering Bulbs
These are usually in stock from mid-late August and will be despatched as soon after as possible.
If you also order other bulbs, please be aware that many do not need planting on arrival - please check the cultural notes which accompany each order for the ideal planting time for each species.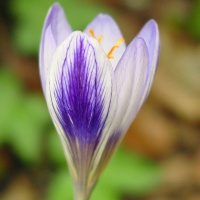 Crocus cancellatus subsp. cancellatus
New for 2019 This lovely, but rare, crocus has light violet-blue flowers with darker flaming to the outside of the petals. The inside of the flower is lit up by the bright orange stamens. Native of southern Turkey, flowering in October at 5" (10cm). Bulb size 7+cm Pack of 5 bulbs for £5.50 Pack of 15 bulbs for £14.50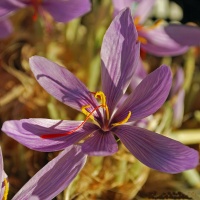 Crocus sativus (saffron crocus)
The saffron crocus. Purple flowers with darker veining & 3 long, bright red stigmas that yield saffron. Hardy, autumn flowering bulb for sun/well-drained soil. Ht. 2" (5cm). It is a false economy to buy smaller corms than the top size we offer, since they rarely perform well. * DELIVERY FROM LATE AUGUST TO FLOWER THIS YEAR *Bulb size 10+ cm Pack of 10 for £4.50Pack of 30 for £12.00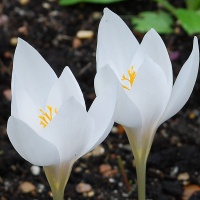 Crocus speciosus 'Albus'
Very fine white form of this easily naturalised autumn flowering crocus. Ht. 5" (12cm). Bulb size 5+ cm Pack of 10 for £3.00 Pack of 50 for £13.50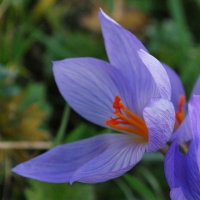 Crocus speciosus 'Conqueror'
Large flowered form of speciosus, which is generally regarded as the bluest of the autumn flowering crocuses. The deep sky blue flowers contrast well with the red-orange stigma and yellow anthers. Flowering in Oct-Nov at 4" (10cm). Bulb size 5+ cm Pack of 15 for £3.00 Pack of 50 for £7.50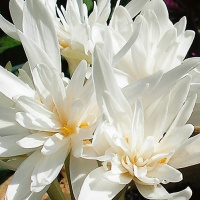 Colchicum autumnale alboplenum
Sought-after, double-flowered, white variety, with each corm producing a bunch of up to 8 flowers in autumn. Hardy corm for a sunny, open site & well-drained soil. Ht. & spread 4-6" (10-15cm).Bulb size 13+ cm Pack of 3 bulbs for £14.00 Pack of 10 bulbs for £42.50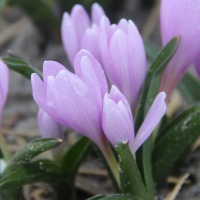 Colchicum hungaricum 'Valentine'
New for 2019 Not all colchicums flower in autumn. This species blooms from January (depending on weather conditions) and is so-named as it is often in flower around Valentine's Day. The blooms are pale pink and appear at the same time as the foliage. Naturalises well in a sunny, well-drained spot. Height 6" (15cm). Bulb size 1 Pack of 3 bulbs for £10.50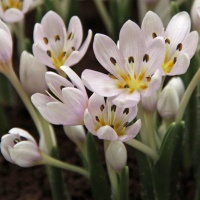 Colchicum hungaricum 'Velebit Star'
New for 2019 Winter flowering species, raised from seed collected in the Velebit mountains in Croatia (so can be variable). The flowers are usually white and set off by the very dark anthers. Flowering January - March at 6" (15cm). Bulb size 1 Pack of 3 bulbs for £10.50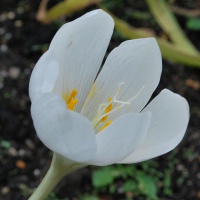 Colchicum speciosum 'Album' AGM
Most desirable selection, with long-lasting goblets of pure white and of considerable size. Ht. 6" (15cm). Bulb size 14+ cm Pack of 3 bulbs for £8.50 Pack of 10 bulbs for £26.00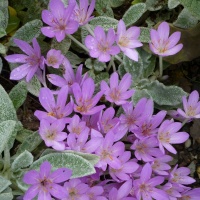 Colchicum tenorei AGM
New for 2019 Rarely offered species and one of the earliest of the so-called 'Autumn Crocus' or 'Naked Ladies' to come into flower. Each corm produces a succession of up to 12 flowers, from August into September. The 6" tall (15cm) flowers are soft mauve, with delightful, light chequering to the petals. Easily naturalised in well-drained soil in sun...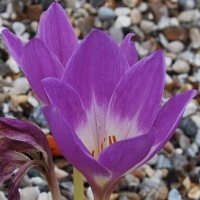 Colchicum 'Violet Queen'
Glowing red-purple flowers with white centres. An outstanding variety which really caught the eye at the colchicum trial at RHS Hyde Hall. Ht. 6" (15cm). Flowering September/October. A new addition to our range this year. Bulb size 13+ cm Pack of 3 bulbs £6.50 Pack of 10 bulbs for £19.50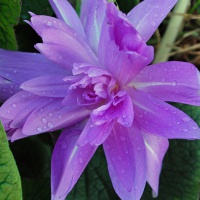 Colchicum 'Waterlily'
Autumn flowering bulb bearing enormous flowers of lilac-mauve, resembling waterlilies. Ideal amongst groundcover plants under trees or shrubs. Leaves appear in spring. Hardy bulb for some sun & any reasonable soil. Ht.5-6" (12-15cm).Bulb size 18+ cm * No Price Increase for 2019 *Pack of 3 for £7.50Pack of 10 for £22.50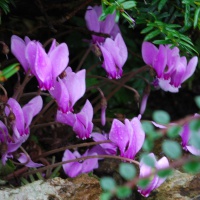 Cyclamen coum AGM
Variable species but always rewarding, with flowers of pink or magenta and beautifully marked leaves. Flowers are produced from winter into early spring, providing a cheering sight in the most inclement weather. Ht.4" (10cm). Bulb size 15+ cm Pack of 3 corms for £4.00 Pack of 10 corms for £12.50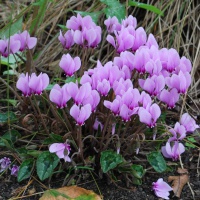 Cyclamen hederifolium AGM
Hardy cyclamen, flowering Sept-Nov with pink flowers and heart-shaped leaves which show variable, attractive markings. We supply top-sized tubers for immediate planting. They are excellent naturalised under trees and are very drought and shade tolerant once established. Ht.4-5" (10-13cm). Corm size 30/35 cm Pack of 3 bulbs for £8.50 Pack of 10 bulbs for £26.00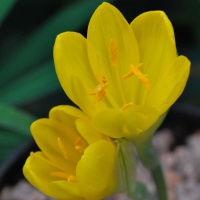 Sternbergia lutea
Autumn flowering bulb with large, crocus-like flowers of deep, golden-yellow. Flowering Sept - Oct in a sunny, well-drained position. Ht.4-8" (10-15cm). Bulb size 12+ cm Pack of 5 bulbs for £4.00 Pack of 25 bulbs for £17.50