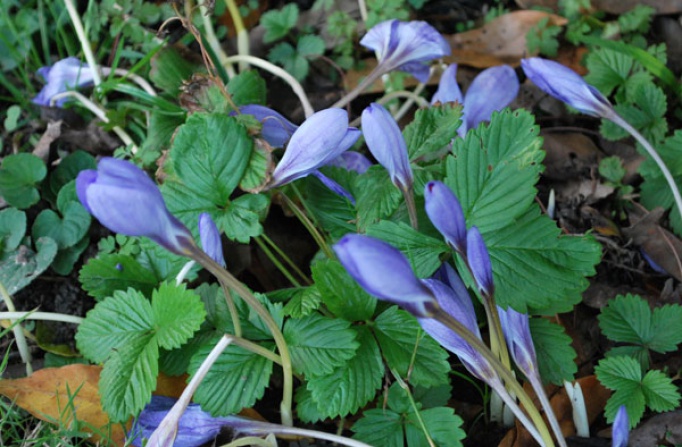 Autumn Flowering Crocus
The delightful little blooms of autumn flowering crocus usually emerge from late October onwards, just as much in the garden is starting to fade. We often plant them under the skirts of low growing perennials, which helps give support to the flowers during inclement autumn weather and helps protect the corms in situations where mice might otherwise be a problem.
Note: The Christmas flowering crocus, crocus laevigatus fontenayi AGM, is listed under the spring crocus section.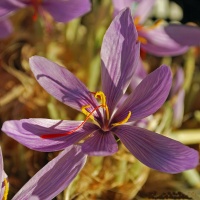 Crocus sativus (saffron crocus)
The saffron crocus. Purple flowers with darker veining & 3 long, bright red stigmas that yield saffron. Hardy, autumn flowering bulb for sun/well-drained soil. Ht. 2" (5cm). It is a false economy to buy smaller corms than the top size we offer, since they rarely perform well. * DELIVERY FROM LATE AUGUST TO FLOWER THIS YEAR *Bulb size 10+ cm Pack of 10 for £4.50 Pack of 30 for £12.00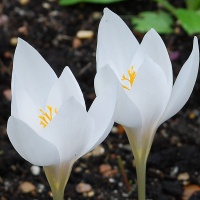 Crocus speciosus 'Albus'
Very fine white form of this easily naturalised autumn flowering crocus. Ht. 5" (12cm). Bulb size 5+ cm Pack of 10 for £4.00 Pack of 25 for £8.50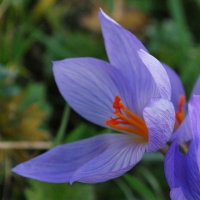 Crocus speciosus 'Conqueror'
Large flowered form of speciosus, which is generally regarded as the bluest of the autumn flowering crocuses. The deep sky blue flowers contrast well with the red-orange stigma and yellow anthers. Flowering in Oct-Nov at 4" (10cm). Bulb size 7+ cm Pack of 10 bulbs for £3.00 Pack of 30 bulbs for £8.00