Dahlia Open Days
Come and visit us on our special Dahlia Open Days to see our extensive collection, which includes new and exclusive varieties. Plants will be available for sale and orders can be placed for next season's tubers. The nursery usually has around 200 different varieties on display and grows around 3,000 dahlia plants every year for sale either at the nursery or at shows we attend during August and September. 2021 has proved to be a late season for many plants and this has also affected the dahlias, with around half of those planted in our display beds still to come into flower, as of the third week of August. Because of this, we will be organising later openings, as shown below.
2021 DAHLIA OPEN DAYS
Saturday 28th & Sunday 29th August (open 10am - 5pm both days). Teas & cakes available.
Saturday 2nd & Sunday 3rd October (open 10am - 5pm both days) PLEASE NOTE THAT THESE OPENINGS HAVE BEEN CANCELLED DUE TO ADVERSE WEATHER AND THE CURRENT FUEL SITUATION. IF WE CAN RESCHEDULE FOR THE FOLLOWING WEEKEND WE WILL DO SO - SEE BELOW.
* SUNDAY 10th OCTOBER * - we will be open between 10am - 4pm. There will be a good selection of dahlias for sale, as well as our usual excellent range of spring flowering bulbs (you can check availability of these on the website before visiting if you are looking for something specific). There is a fair amount of colour in the display beds, although these have suffered in the recent deluges and high winds, so they do fall short of what we would normally expect at this time of year.
As these are outdoor events with a modest attendance (we do not advertise outside the website), we do not expect to be affected by coronovirus issues. However, with Covid rules constantly changing, it would be wise to keep an eye on this page and to check by 'phone (01992 573775) before travelling any distance. If you are in a 'high risk' category, we strongly advise visiting at another time by appointment, in order to avoid other visitors.
What to expect; we don't believe in having large blocks of each dahlia variety, because although it might look impressive (see some of the images of Anne fighting through them to select the ones for next season), it's unrealistic for most gardeners. So we've planted out a number of beds which have a mix of dahlias and other perennials, so that visitors can get a better idea of planting combinations. Some replanting is done every year to reflect new additions to our range, so that beds are a mixture of established and new plantings. More dahlias can be seen on the nursery itself, including some hard to source varieties which we are unable to include in our mail order range.
We usually also have the first of the harvest of spring & early summer flowering bulbs in stock for visitors to choose from, as well as a range of choice perennial plants. Due to a late harvest, we will not have bulbs available for this year's August openings. A full range will be available in October.
A map of how to find us is on the "Finding Us" page.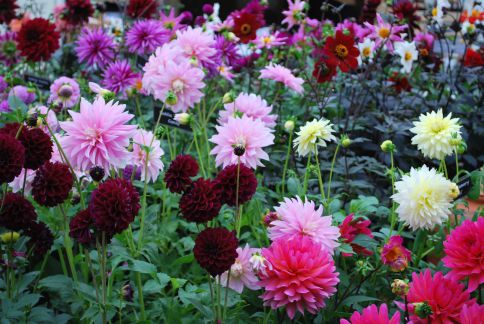 Below is a (very) short video clip of the one of the 2013 Open Days.