Dahlia Open Days
Come and visit us on our special Dahlia Open Days to see our extensive collection, which includes new and exclusive varieties. Plants will be available for sale and visitors can use the opportunity to earmark their 'must haves' for ordering tubers next season. The nursery usually has around 200 different varieties on display and grows dahlia plants for sale either at the nursery or at shows we attend between July and September.
2023 DAHLIA OPEN DAYS
SATURDAY 9TH & SUNDAY 10TH SEPTEMBER 10am - 5pm. Please take precautions against the forecast hot weather for this weekend (sunscreen/hat, etc.) and bear in mind that the nursery area is under regular watering, so that conditions underfoot will be wet!
What to expect; we don't believe in having large blocks of each dahlia variety, because although it might look impressive (see some of the images of Anne fighting through them to select the ones for next season), it's unrealistic for most gardeners. So we've planted out a number of beds which have a mix of dahlias and other perennials, so that visitors can get a better idea of planting combinations and take away inspiration for their own gardens. Some replanting is done every year to reflect new additions to our range, so that beds are a mixture of established and new plantings, as well as 'works in progress'. More dahlias can be seen on the nursery itself, including some hard to source varieties which we are unable to include in our mail order range. There will be a selection of dahlia plants for sale. In all, we have around 300 varieties in our collection although not all can be seen in flower at any one time.
PLEASE NOTE; BEFORE TRAVELLING ANY DISTANCE, 'PHONE TO CHECK THE CURRENT FLOWERING SITUATION. 2023 HAS BEEN A CHALLENGING YEAR AND DAHLIAS IN THE GARDEN ARE SHOWING SIGNS OF STRESS IN THE CURRENT HEATWAVE, SO THAT FLOWERING IS MUCH REDUCED IN SOME AREAS (IF YOU ARE VISITING TO SEE SPECIFIC VARIETIES/TYPES, YOU MAY WANT TO CHECK BEFORE MAKING YOUR JOURNEY). THE NURSERY IS WATERED REGULARLY, SO NO ISSUES WITH PLANTS FOR SALE.
We will also have an exceptional range of autumn, spring & early summer flowering bulbs in stock for visitors to choose from.
Anne, who is a long standing member of the RHS Dahlia Forum responsible for judging the dahlia trials at Wisley, will be on hand thoughout the weekend to offer help and advice.
Note that there are other events taking place in the village over the weekend, which are open to all-
SATURDAY 11AM-3PM JUMBLE TRAIL (STALLS OUTSIDE HOUSES SELLING GOODS)
SATURDAY 3PM ONWARDS - PUB ON THE PARK WITH BAR & BBQ
SUNDAY 3PM - 5PM FUN DOG SHOW WITH AFTERNOON TEA AT ALL SAINTS' CHURCH, EPPING UPLAND
No further open days are planned for September, due to our busy show schedule fo that month, but we hope to add at least one additional Open Day for October - watch this space!
A map of how to find us is on the "Finding Us" page.
Below is Anne in Holland selecting the very best dahlias for our catalogue.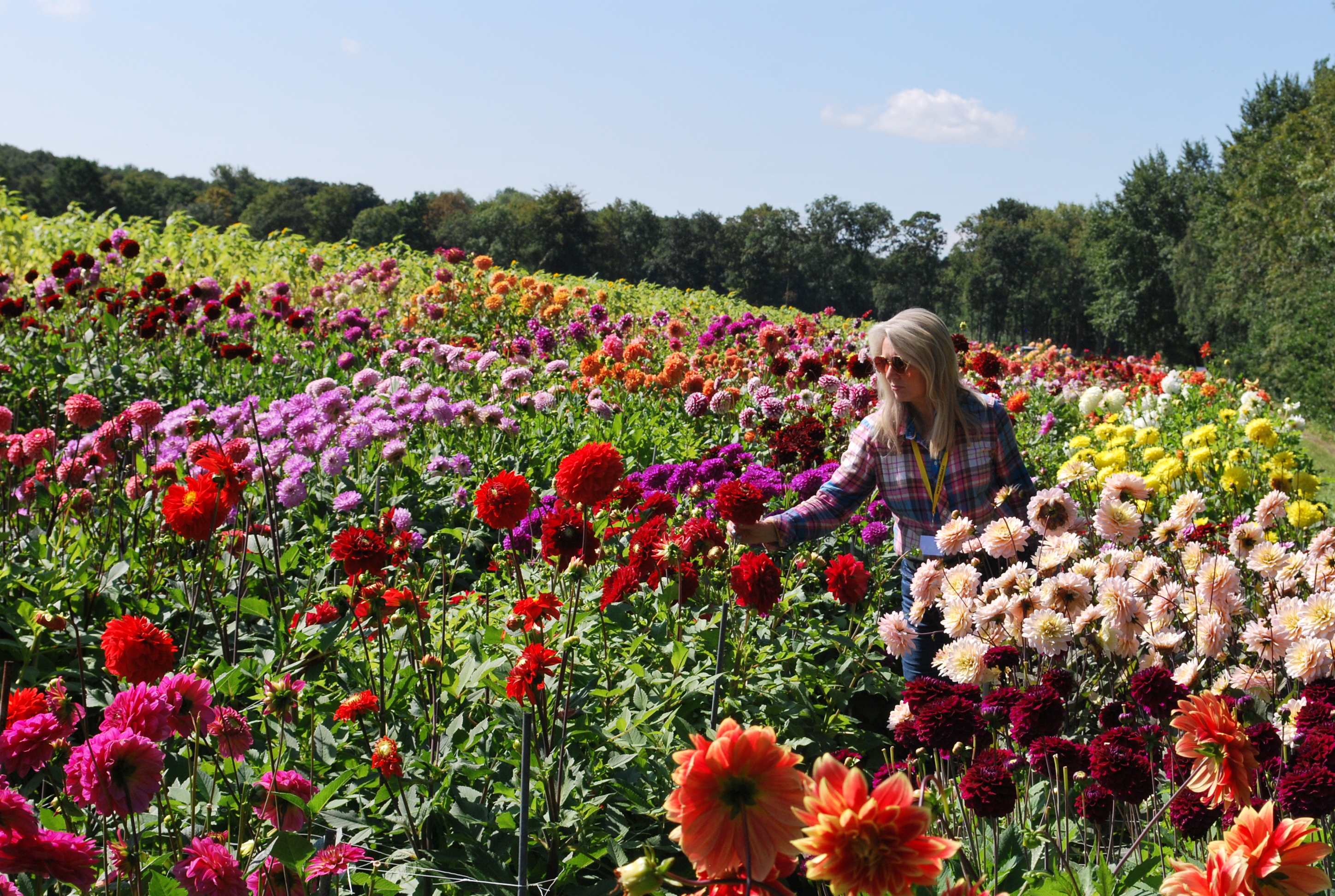 Below is a (very) short video clip of the one of the 2013 Open Days.