2023 Show Diary
February
April
16th - Great Comp Spring Fling. Great Comp Garden, Comp Lane, Platt, Nr Sevenoaks, Kent, TN15 8QS. 01732 885094 - 10am - 5pm
29th - Plant Heritage London Group - St Michaels School,

North Road,

Highgate,

London N6 4BG

9.30am - 1.30pm

30th - Plant Fairs Roadshow - Hatfield House, Hatfield, herts, AL9 5HX. 11.00am - 3pm
May
1st - Chenies Manor Tulip Day. Chenies Manor, Chenies, Buckinghamshire, WD3 6ER. 01494 762888 2pm - 5pm
7th - Plant Fairs Roadshow

, Borde Hill Garden, Haywards Heath, West Sussex, RH16 1XP. 10am - 3pm

13th - Plant Fairs Roadshow

, Telegraph Hill Centre, St Catherine's Church, Kitto Road, New Cross, London, SE14 5TY 1pm - 4pm
June
4th - Plant Fairs Roadshow, Sussex Praire Garden, Morelands Farm, Wheatsheaf Road (B2116), Nr Henfield, West Sussex, BN5 9AT 01273 495902 12 noon - 5pm
10th - Plant Fairs Roadshow, Horniman Musuem & Garden,

100 London Rd, London SE23 3PQ 11am - 4pm

25th - Plant Fairs Roadshow

, Herstmonceux Castle, Halisham, East Sussex, BN27 1RN 11am - 4pm
July
12th & 13th - Great Comp Summer Show. Great Comp Garden,

Comp Lane, Platt, Nr Sevenoaks, Kent, TN15 8QS.

01732 885094 - 10am - 5pm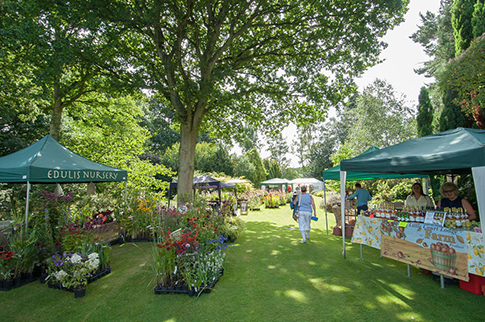 20th - Plant Fairs Roadshow, Hole Park, Rolvenden, Cranbrook, Kent, TN17 4JA 11am - 4pm

26th & 27th (Saturday & Sunday) - Dahlia Open Weekend @ Rose Cottage Plants. 10am - 5pm (Moved to September 9th & 10th (see below)
28th (Bank Holiday Monday) - Chenies Manor

Dahlia Day.

Chenies Manor, Chenies,

Buckinghamshire, WD3 6ER.

01494 762888 2pm - 5pm
September
2nd - Plant Heritage London Group -

Saint Michael's School,

North Road,

Highgate,

London N6 4BG

9.30am - 1.30pm

3rd - Sussex Prairies Autumn Plant Fair,

Sussex Praire Garden, Morelands Farm, Wheatsheaf Road (B2116), Nr Henfield, West Sussex, BN5 9AT 01273 495902 12 noon - 5pm

9th & 10th (Saturday & Sunday) - Dahlia Open Weekend @ Rose Cottage Plants. 10am - 5pm

17th -

Plant Heritage Suffolk Group, Helmingham Hall, Stowemarket, Suffolk, IP14 6PF 10am - 4pm

22nd, 23rd & 24th - Malvern Plant & Garden Fair. Please note this is a three-day show again this year, so less over-crowding, and more time to chat to us.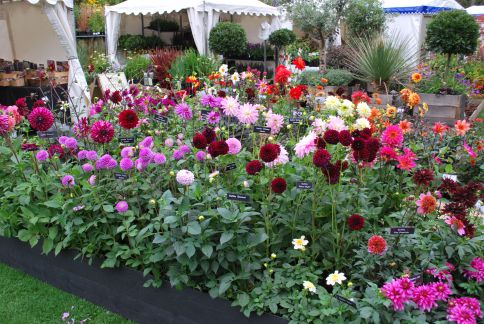 Anne putting the finishing touches to one of our RHS Wisley displays