Welcome to Rose Cottage Plants
As passionate gardeners, as well as nurserymen, bulbs have always played an essential role in all our planting schemes. From the simplicity of the earliest snowdrop to the razzle-dazzle of dahlias in high summer, bulbs can be relied on to supply an extra layer of interest and colour to the border in every month of the year.
Putting together our seasonal bulb collections allows us to bring you the very best the bulb world has to offer – a wonderful choice of exceptional varieties, from the established favourites to the new and the sought-after. We source from the best growers to offer the finest quality, top-sized bulbs at prices which will pleasantly surprise you.
Whatever your style or size of garden, by choosing from the Rose Cottage range, you will bring a touch of bulb magic to your own Eden.
Anne & Jack Barnard
Latest News and Upcoming Events
April 2013 7th April - Loughton Farmers Market (9 am - 2 pm) May 2013 4th May - London Plant Heritage Group - Plant Sale - Highgate Junior School (10.30 am - 3.30 pm)
Our website has been given a make-over for 2013. Whilst retaining its familiar style, we have incorporated up-to-the-minute features which allow easy and quick access to products and information. At the...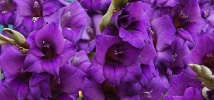 Glorious Gladioli
With their tall spires of flowers and vibrant colour range, these are perfect partners for dahlias. This season's extended range includes exciting new varieties.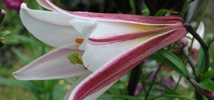 Lovely Lilies
Incomparably scented trumpet lilies and varieties grown simply for their knockout colour – lilies are wonderful both in the border and in tall containers. Place the scented ones near the front door for an unforgettable 'welcome' fragrance.
Neon Nerines
Neon pink may be the best known colour for nerines, but modern hybrids offer a colour range that encompasses white and altogether softer hues.