Tulips - Parrot
Extrovert and distinctive, the tulips from the parrot group are guaranteed to stop viewers in their tracks. With their feathered and curled petals and often distinctive colouring, they seem to encapsulate everything that demonstrates the sheer range and diversity of tulip breeding.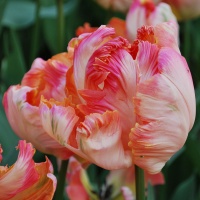 Tulipa 'Apricot Parrot'
Pale, pink-peach outer petals are flamed green, opening to rich apricot. Flowering in April - May at 20" (50cm) Bulb size 12+ cm Pack of 10 for £6.00 Pack of 50 for £27.00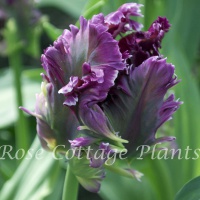 Tulipa 'Mysterious Parrot'
* New for 2017 * Exciting new parrot tulip, with ruffled purple flowers prettily suffused with soft, grey-green. We fell in love with this at first sight and have been pursuing stock for a couple of years, so are delighted to add it to our range for this coming season. Flowering in April-May at 18" (45cm) Bulb size 11/12 cm Pack of 5 bulbs for £6.50 Pack of 15 bulbs for...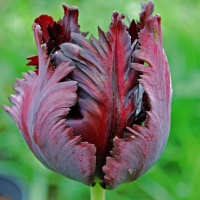 Tulipa 'Black Parrot' AGM
Wonderfully fanciful flower form & exotic colouring make for a highly desirable tulip. If you only grow one parrot tulip, this is ilkely to be the one. With its amazing colour combination of maroon-black and green, its sturdy stems and twisted flower form, it draws fleets of admirers. Flowering in late April - May at 18" (45cm) Bulb size 12+ cm Pack of 10 for £4.50 Pack of 50 for £20.00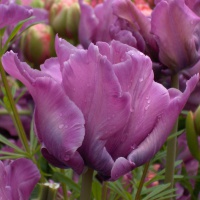 Tulipa 'Blue Parrot'
Large, impressive flowers of lavender-mauve with waved and crested petals. Strikingly ornamental in borders. Becoming quite hard to source. The variety is a sport of 'Bleu Aimable' which is still, arguably, the bluest tulip available. Flowering in late April - May at 18" (45cm) Bulb size 12+ cm Pack of 10 for £6.50 Pack of 10 for £30.00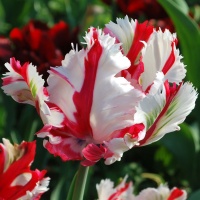 Tulipa 'Estella Rijnveld'
White, flamed red, with prettily feathered edges to the petals. Flowering in late April - May at 20" (50cm) Bulb size 12+ cm Pack of 10 for £6.00 Pack of 50 for £28.50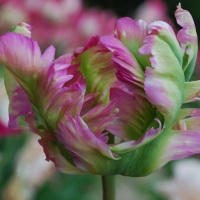 Tulipa 'Green Wave'
An extravagant confection of pastel-mauve flamed green on a white base. Has been perennial with us for the past 3 years. Flowering in late April - May at 18" (45cm) Bulb size 12+ cm Pack of 10 for £5.50 Pack of 50 for £25.50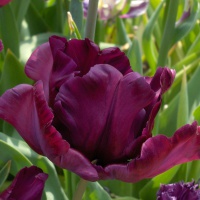 Tulipa 'Muriel'
Sumptuously rich new colour for a parrot tulip, with crumpled petals of deep burgundy. It has been included in our spring trials for the last few years and has been a late flowering sensation. Flowering in late April - May at 18" (45cm) Bulb size 12+ cm Pack of 10 for £8.50 Pack of 50 for £38.50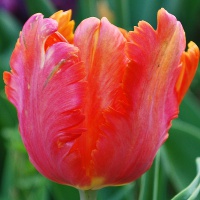 Tulipa 'Orange Favourite'
Prettily feathered flowers of tangerine-orange with touches of fresh green. As with many orange tulips, this variety has the bonus of scent! Season - late, Height - tall Bulb size 12+ cm Pack of 10 for £6.50 Pack of 50 for £30.00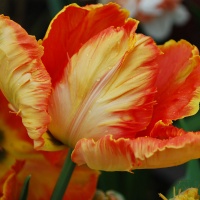 Tulipa 'Professor Röntgen'
Exciting combination of apricot, orange and green. The flowers are less feathered, but more waved, than those of 'Orange Favourite'. Flowering in April at 16" (40cm) Bulb size 12+ cm Pack of 10 for £7.50 Pack of 50 for £33.00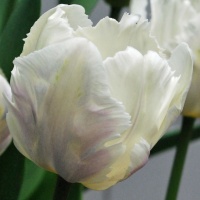 Tulipa 'Snow Parrot'
Beautiful variety, with snow-white petals, softly curled and crested, with a base of subtle lavender-grey. Flowering in April - May at 14" (36cm) Bulb size 12+ cm Pack of 10 for £8.00 Pack of 50 for £36.00